Buy Factory Direct with No Middle Man and No Dealer Costs!

FAQ – Pre-Engineered Metal Buildings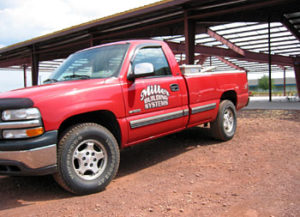 How long does it take to get a building?
Because we design and fabricate every building for each customer's specific needs, our delivery time is generally about 6-8 weeks from the time we receive your order. Our sales department can give you a better idea after reviewing your situation.
Are the buildings insulated?
We offer several types and r-values of insulation specifically designed for steel buildings that help control condensation and can also be used for climate controlled buildings. Typically, a climate controlled building has 6″ of vinyl-backed insulation in the roof and 4″ in the walls.
What about building codes and loads?
Every Miller building is engineered according to national and regional building codes with specific wind and snow loads. If your local building department requires a particular code and loading, we will design your building to meet the requirements and provide drawings stamped by a registered architect.
Are the buildings all steel?
Yes, our buildings are all steel construction. The gauge of steel for the main structural members is calculated by our engineers, considering the wind and snow loads. We also can erect a building with masonry walls. The block will have to be installed by a local masonry contractor but we can lock onto the block with our metal flashing.
Can Miller Buildings deliver a building anywhere in the United States?
Yes, and we also ship internationally to Canada, Africa, Puerto Rico, Barbados, etc. Our building quotation will itemize not only the material price with freight but also the erection labor to build your building on site.
Is there a Miller building near me that I can go see?
Miller Buildings has delivered buildings in many locations and there may be one near you. To protect the confidentiality of our customers, we do not publish a list of these locations. However, you may call our sales department to see if there's a building in your area and we may be able to provide the phone number of the owner. Many of our clients will gladly show off their Miller building when you call!
Do you have a price list?
Since each building is constructed based on load designs and unit mix, we price every job per your specifications with a computerized estimator. Call us today to talk about your plans!
What will freight cost?
There is no exact rule on freight charges. The cost will depend on the weight of the building and distance from our plant. Freight is always included in the building cost.
Are the buildings painted?
Yes, the walls, trim and doors are painted with a factory-applied paint which includes up to a 25 year manufacturer's warranty on the factory painted siding and roof material. Attractive color combinations are available on all our buildings. A high-profile, 6″ in 12″ pitch, colored roof is also available on all of our buildings.