Buy Factory Direct with No Middle Man and No Dealer Costs!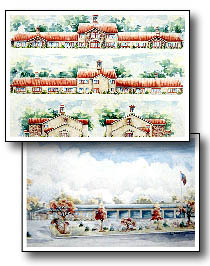 Architect Renderings and Details
In the early stages of planning and zoning, concept paintings or artist renderings can be very helpful. Miller can assist you by using experienced architects and artists trained to provide accurate detailed images that express the curb appeal needed for your market. The staff at Miller has been helping develop self storage projects from the planning level since 1976.
Miller's architects will prepare detailed plans that will include slab and foundation details, firewall requirements, multi-story floor systems, etc.
Our architects have many years of experience working with self storage developers to meet all state and local code requirements. They have designed free standing offices with high pitched roofs, offices and apartments that are incorporated into a self storage building, clock towers, colonial facades, mansard roofs and a variety of architectural facades that add curb appeal to self storage projects.